Stories in the News

Click here  for a Post Gazette article about Mr. Elliott's federal court case for breach of contract and fraud against an invention development company.

Here is a link for an article about Mr. Elliott's handling a claim for a plaintiff.
The New York Times Magazine

Our firm brings and defends claims for money for "NSF" checks or "fraud." Here, Mr. Elliott defended a woman accused of using "fraud" to deceive a man ("Mike") into acknowledging paternity.  Here is a New York Times article about a case Mr. Elliott handled successfully through the appellate courts.  The New York Times quoted Mr. Elliott's closing arguments at length:
The real issue, her attorney, Todd Elliott, told the court, was that Mike didn't really want to stop being L.'s father.
"Every time he was given a chance to deny paternity, he never did," Elliott said, according to the transcript. "He signed consent order after consent order because he wanted to be the father. The testimony here today is that he only did it because of some philanthropic belief that he wanted to step up. That's not true. . . . He fought for every other weekend. He fought for having her overnight on a Wednesday. He fought for having her not be able to leave the jurisdiction. These aren't things that someone does because they are just philanthropic. He wants to be the dad; he just doesn't want to pay support." Elliott's accusation infuriated Mike, who believed it accurately described Rob, not him.
The hearing officer was persuaded by Elliott's argument: Mike hadn't been defrauded into admitting paternity after the DNA tests, and he had hardly abandoned L. after he learned the truth.
_________________
CBS News asks Mr. Elliott for A Legal
Opinion on Current Events
____________
Powerball Jackpot Hits $500 Million
Jackpot Could Lead To Office Pool Disputes
January 6, 2016 12:10 PM By Jon Delano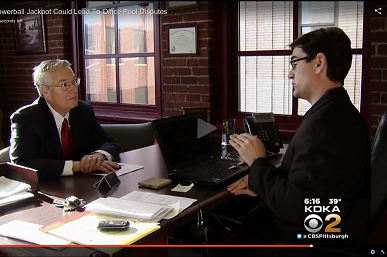 PITTSBURGH (KDKA) – A half a billion dollars — now that's a Powerball jackpot — and pooling your dollars at work to buy more tickets is a popular option.
"We did a small pool with the employees that are here today," Jodi Mitchell told KDKA money editor Jon Delano on Wednesday.
Mitchell is the manager at Spartan Pharmacy in Bethel Park, which also sells a lot of lottery tickets.
"Somebody comes in with an envelope full of money," said Jamie McClelland, a clerk at the pharmacy. "They just want to buy a group of tickets for everybody in the office or wherever they work, and there all going to split it."
Statistically, the odds don't change much buying 50 or 100 tickets, but Powerball pools can mount up.
"A couple hundred dollars I've seen them buy," says McClelland.
But lottery officials say office pools have caused issues in the past.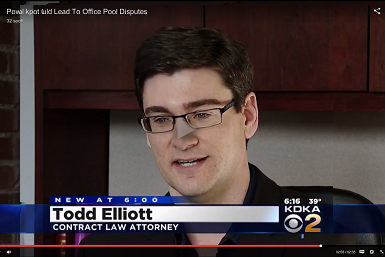 Karen Kafton, of Follansbee, West Virginia, is part of a pool at her office.
Delano: "Do you have any kind of written agreement on how you're going to split it up?"
Kafton: "No written agreement. Just trying to be honest, taking each other's word for it, but no."
That's pretty typical.
Suppose you buy a bunch of Powerball tickets for your office pool, and you happen to win something. How are you going to split it? Should you really have a written agreement stating all that, or are you going to get in a lot of fights in court?
We all know — money changes everything.
"It makes people say things that they would not ordinarily say," says Pittsburgh attorney Todd Elliott.
Elliott focuses on contract law, and he says without a written agreement a judge could decide who gets what based on the testimony of co-workers.
"So you probably know and like and trust your co-workers but when you have money and a financial stake at issue, that could be a very bad time to find, to learn
 something about them that you wished you had known in advance," he said.
Elliott says you don't need a lawyer, just a piece of paper signed by everyone in the pool.
"It should be something simple, at least a line or two, saying what portion each person will receive."
That should keep all the office winners happy.
_______
Call Our Pittsburgh Attorneys Any Time
412.780.0008