What is a Free Consultation? 
Our 10 lawyer Pittsburgh firm provides solid representation for disputes regarding: all kinds of breach of contract disputes, sales agreements, construction project disputes, non-competes, business disagreements, collections (claims and defenses), and more. If you have a case we would handle on a contingency fee basis (collections, construction law damages, injuries) or defense a claim for non-payment of a credit card, we do a full review of your claims for free.  
Otherwise, if it is a case that lawyers typically handle on an hourly fee basis, we answer a question or two 

for free

if you (1) fill out our contact form, (2) the matter is something we actually handle in Western PA; and (2) there is no conflict of interest.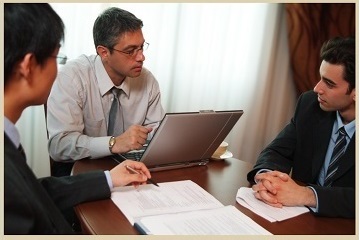 Full Case Review 
If you seek an opinion about whether a contract exists or is enforceable (in other words, if you have more than a question or two), then we may (not always) charge a reasonable flat fee to review all the details of your case.  We apply decades of experience to size-up all claims and defenses, give you a detailed litigation budget (so you know the cost of each stage of the case), and we show the adverse party early on that we are ready to win at trial, if they don't settle.   
Call or Email Today
For more, call or email us, or continue reading answers to commonly asked questions.  
Business Disputes
Sale of Equity, Commissions, Debt, Partner Disputes, Property Sale Agreements, Company Mismanagement, Collection
General Contractor, Owner, Sub Disputes, Mechanic's Liens, Commercial and Residential
Let's Get Started
412.780.0008
What is My Case Worth?
No two cases are exactly alike.  Plus there are no guarantees in litigation, of course. Generally speaking, your claim for breach of contract may entitle you to award of money sufficient to "make you whole," meaning, to put you in same position you would have been, had the breach not occurred. You may also seek an award for your costs.
Award For Attorney Fees.

In Pennsylvania, you generally cannot recover an award for attorney fees unless the contract or some specific law allows for the same, such as a consumer protection statute or the Home Improvement and Consumer Protection Act.  The contract may also include a "stipulated damages" clause, indicating the value of certain types of claims.
Aside from remedies for breach of contract, you may also have a claim for breach of fiduciary duty (if the parties' agreement created a close relationship of trust), which may allow you to recover "exemplary damages," which are punitive damages and attorney fees, but know that the courts are often hesitant to award exemplary damages. Lastly,  if the opposing party violated a consumer protection statute, you may be entitled to an award for triple (treble) damages.
What Other Remedies Are Available in Court?
The remedies available will depend on whether your case was filed on the general docket, in arbitration, or magisterial district court (small claims).  Judges on the general docket have the most power.  In most cases, the courts will enter a purely monetary award to put the plaintiff in the same position he would have been had the breach not occurred.  For example, even though a court will not likely order a home improvement contractor to finish work on a home, it will allow the home owner to seek an award for money damages based on estimates from other contracts to finish the job. But in some instances, a monetary award is not enough to compensate the parties.  If, for example, the subject of the dispute is inherently unique (such as real estate), the court can order specific performance, i.e., the transfer of title in lieu of awarding only money damages for the value of the property.
Other Remedies.

 Regarding non-competes, the Court may order a party to restrain from competing. In claims for the mismanagement of a business, the courts can order an accounting of the business, and even require the appointment of a receiver to control the business pending the dispute.  In extreme cases, the courts can order the dissolution of a business.

 
What Defenses are There To Claims for Breach of Contract?
There are many defenses, as we know from regularly representing defendants. The defenses depend on the facts in each case. The defense attorney can question: Does the court have jurisdiction? If so, were all the terms of the contract at issue agreed upon? Should some or all of the agreement be in writing, or a different written form than what exists? Was there a true "meeting of the minds" for an agreement to exist, at all? Was the breach relatively minor?  Should something else have happened before the Defendant was required to to perform relative to the agreement? Is the party bringing suit at fault for his or her damages? Did the Plaintiff fail to mitigate damages? Are the estimates of damages exaggerated? Plus, there are certain defenses specific to non-compete agreements, consumer debt collection, and construction law cases.
How Long Do I Have To File Suit?
In Pennsylvania, you have 4 years to sue for breach of contract, but the contract may provide a shorter time period. You have 2 years to sue for negligence; one year, for libel, slander, or invasion of privacy, and only six months to sue or place a governmental entity on formal written notice of your claim. There can be governmental involvement in certain claims, such as construction cases where the township did something wrong.
Plus, if a claim against  you is time bared, you can give the claim new life by, for example, waiving the statute of limitations defense or acknowledging the claim as legitimate.  Talk to a lawyer to learn how the time limits will apply in your case. The bottom line is:  take time limits very seriously. The courts do not apply a general "fairness" standard. Strict technicalities will be enforced.  For example, commencing your suit in small claims court may not be sufficient to stop the statute of limitations clock from running. Rather, you may need to file your case on the next level up, or on the Court of Common Pleas docket, or in federal court.
How Do I File Suit?
Before you file suit, you should read your contract closely. The agreement may contain an "arbitration clause," which simply means that any dispute must be filed in arbitration, which is totally outside of the courts.  Talk to a lawyer to lean the trade-offs between arbitration and court. Arbitration is generally much more expensive, because you pay not only your legal fees, but also the arbitrator's hourly fees, unlike court, where the County pays the judge's salary. Plus, not all arbitration clauses are enforceable, though many will be enforceable.
We Represent Individuals and Corporations 
Hundreds of individuals and mid-sized businesses have relied on us over the years to handle their litigation disputes, giving us significant experience in state and federal court.  We handle a wide range of issues from debt collection (and defense) to shareholder disputes, insurance coverage, property damage, and more claims.
Anyone contemplating suit or a defense of suit should talk to lawyer regarding any breach of contract before thinking ones "knows" what litigation will entail. Some cases are easily maintained or defended.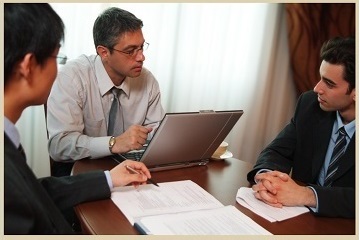 What is Contract Litigation?
Contract litigation entails the formal resolution (in court or mediation/arbitration) of disputes involving any contract: business law (commercial debt, shareholder disputes, franchise agreements), construction law (commercial and home improvement, mechanic's liens), consumer debt, non-competes, employment agreements, and more.
Does Your Firm Handles Contract Disputes?
Yes, we represent parties in all cases, large and small, including eight-figure disputes in federal court.  Our 10 lawyer Pittsburgh firm handles on a daily basis claims (for money damages and debt collection), defenses to contract claims involving:  construction and renovation issues, home improvement, non-competes (for employers and  employees), oil and gas leases, partner or member disputes regarding ownership of a business, franchisor-franchisee agreements, and more.   
Our contract law attorneys possess over 18+ years of experience each. We regularly enforce and defend actions for breach of contract in AAA arbitration, state court, and federal court throughout Western Pennsylvania.  
What is a Contract?
A contract is an understanding between individuals or corporations where the parties agree to do certain things in exchange. It requires an offer, acceptance, and something of value sought by each party.
Does a Contract Have to Be in Writing?
In most cases, no, unless some particular rule requires it. For example, the Home Improvement and Consumer Protection Act requires that home improvement contracts be in wring.  Also, the statute of frauds requires that land sale agreements be in writing; same for the lease of real estate for greater than one year.  Call our Pittsburgh lawyers any time to learn about all the types of contracts that must be in writing.
How Do I Sue -- or Defend -- in Court?
 You will get peace of mind from knowing upfront what your case entails. Is the claim or defense going before the right judge, or should the case be in AAA arbitration (by a virtue of a clause in the contract?  What are the trade offs?  Is the case filed in the right county?  Was the defendant sued in the proper name?  Or, on the defense side, is there a technical defense that will defeat the case early?    
Do I Need An Experienced Attorney?
The answer is, yes, for any case, large or small -- to least take a look at the case. Talking to lawyer who focuses on contract law can save time and money over the long run.  By contrast, a general practice lawyer can rattle off a dozen possible defenses to breach of contract (from having sat for the bar exam), but may not know from experience how judges and juries regard such defenses in practice.  
You can benefit from a surgical and targeted approach to defend a claim for breach of contract; likewise, this can save you tens of thousands of dollars of legal fees over the long run. Your attorney should have experience in both state and federal court.  Federal judges tend to review contract cases much more closely than state judges and if the case against you involves a federal question or a dispute involving $75,000 or more between parties from different states, then your lawyer can remove your case from state court to federal court, where the chances of an early dismissal generally improve.
Plus, your defenses are time sensitive. By doing nothing, you risk a default judgment being entered against you. You generally have 20 days to file a written response to the claims against you.  The 20 day clock starts ticking the day you were served. Beyond that time, many of your defenses may be waived. That said, you should not offer every defense that may be available, as some will be total waste of time. You may have technical objections to the form of the suit against you (was it specific enough, etc?)  But keep in mind, just because  you can objection, it doesn't mean you should. If, for example, your nitpicking objections are promptly overruled by a judge (upon his first look at your case), this could create momentum against you, making the opposing party think that he or she will win in the end, just because your early objections failed. That said, sometimes technical objections can stop a case dead in its tracks. Defending civil cases involves a very sophisticated area (not like drafting simple wills) that you should only entrust to a lawyer experienced in this area.
How Long Do These Cases Take?
Most cases settle before going to court. In fact, one study revealed that 94% of cases filed in Pennsylvania in state and federal court resolved before going to court.  How long your case will take will depend on how hard your attorney works, early on, to build your case carefully and persuasively, to convince the adversary that additional time discussing the case would be a waste of time.
How Much Will Litigation Cost?
A party sued for breach of contract may not have liability insurance to cover the claim, because insurance usually only covers claims for negligence and damage to persons of property from some accident, not from a breach of contract. There are some exceptions, however, such as in the area of construction law, where a contractor may have negligently caused damage to property within the scope of his insurance. Otherwise, absent insurance coverage, it can become difficult to collect on claims for breach of contract so many lawyers will charge an hourly fee for legal services. Our lawyers, however, try to be creative in terms of finding ways to make litigation affordable.  We offer contingency fee arrangements where possible, and also flat fee billing. On the defense side, we charge a reasonable hourly fee or a flat fee.  Call any time to learn more.
Do I Need an Attorney to Bring Smaller Claims?
You should at least talk to an attorney before bringing or defending a claim.  Our attorneys handle all cases, large and small, ranging from claims valued as low as around $12,000 to several millions of dollars. However, simple cases (involving only a few hundred or a few thousand dollars) can and probably should be filed on the small claims court docket, where you can seek up to $12,000 and you do not need a lawyer.
In Which County Do I File Suit?
The contract may provide where suit can and must be filed. If you have not read the contract you signed, you may be very disappointed to learn that the agreement provides that suit must occur in a state where do not even live. Otherwise, in Pennsylvania, you can sue someone in any county where he or she lives, or where the breach occurred. There is some appellate authority suggesting that you can sue where the contract was "accepted."  Our lawyers can provide more information, any time.
What Sort of Experience Should My Attorney Have?  
Experience Evaluating Claims and Defenses. Your lawyer should be able to speak from experience about (a) the value of your case and (b) how the courts have resolved particular legal issues in contract law in the past, such as how the statute of limitations may apply concerning your claim.  On the defense side, you have 20 days to file a response from the date you were served. You will want an attorney experienced with objecting to jurisdiction, venue, and other objections, because some objections are a waste of time. 
What is a Free Consultation?
Our free consultation involves one of our lawyers taking to you for free over the phone. We answer your questions and give you an idea of what your case will involve. We also evaluate whether you need a more detailed review of all the documents, contracts, and facts in your case, which can provide for a low flat fee.
Do I Need a Detailed Review of My Case?
The case review is extremely important, because this is where you attorney will form his or her litigation plan, which involves budgeting for work that needs to be done.  It also involves ruling out work that would have little value to you.  Hence, this review (even if it takes several hours) will save you time over the long run. An incomplete review can cause your attorney to change strategy mid-way through litigation.  This will both waste time and make you lose credibility to the opposing party.  If, for example, you start out relying one legal theory (to recover money or defend a claim) but then shift theories later on (to take into account information that should have been reviewed at the outset), it will look like your lawyer is just playing games and trying to "see what sticks" to advance your rights.  Instead, the lawyer should do a full and complete review of all available facts early, to plan a steady and strong course of litigation.   Unlike personal injury cases, where the injury party will require months of treatment involving lots of follow up medical records, claims for breach of contract are relatively discrete in terms of the documents involved, such that most of the relevant documents can -- and should -- be reviewed early on.
Will I Have to Sit For a Deposition?
Maybe. A deposition is simply where you sit in one of the conferences rooms of the attorneys and the opposing party gets to ask you questions to test the strength of your statement to evaluate how the case will play out in court. You may not have to sit for a deposition at all.  In most breach of contract case, the documents speak for themselves as many parties rely upon a written agreement or series of documents that, taken together, comprise of the agreement. The contract may contain a "zipper clause," that provides, the written agreement is the only understanding between the parties such that no other statement or document can be offered to explain what was meant between the parties. Depending on the contract, you may have to give testimony about the parties dealings leading up to the contract, or concerning the damages sustained.
Have Any Other Questions?
Our lawyer provide a free consultation, such that we answer a few general questions for free over the phone, any time.
Get Resolution of Litigation Matters
Protect your rights in any dispute.  
_______________________
Home | All Contracts | Construction | Non-Compete | Litigation 
Frequently Asked Questions | Links | Site Map - Xml Map
__________________
You should consider our Pittsburgh law firm if you think "Pittsburgh lawyer contract." We handle: (1.) Construction Law, which is a nuanced area of law.  You can benefit from talking to attorneys who handle construction law disputes throughout Western Pennsylvania for and against property owners, general contractors (GCs), subcontractors, and suppliers; (2) Non Compete; here, the courts apply a balancing test to determine whether to enforce a non-compete.  There are many factors to consider, such as the employee's need to work, weighed against the interest of the employer in protecting trade secrets, for example; and (3) Business Law, Corporate Disputes, and Debt.  Here are links to more information about particular claims and defenses: Claims For Money, Defense of Claim, Defense of Collection Actions, and Employment Law.
An individual (or business) outside of Pennsylvania may need to shop for an attorney to retain as local counsel for a dispute in Western Pennsylvania, including Pittsburgh. We handle formation and enforcement issues.  This may be in federal court (Western District of Pennsylvania) or the surrounding counties:  Beaver, Butler, Washington, Greene, Fayette, Clarion or Westmoreland County. Call our Western PA lawyers before you decide to accept any major home improvement contract or agreement. Learn your rights before it's too late. Click here Types of Contracts. Our lawyers in Pittsburgh, PA handle all types of contracts: non-compete, the purchase of goods or services, employment agreements, pre-marital and post-marital agreements, home improvement, vehicle  repairs, or other major purchases. Our attorneys in Pittsburgh see change orders, mechanic's liens on real property,  failure to perform, insurance coverage disputes, declaratory judgment actions, warranties, choice of law issues (what  state's law applies?) subcontractor and supplier issues, work of subs, operating agreements, leases, home sales  agreements and more. Our lawyers know the jury system in Western Pennsylvania regarding performance. We handle  all contracts, real estate, sale of goods, breach of warranty, and construction law.
Our Pittsburgh, PA Contract and Other Document Drafting Lawyers will handle your contract law litigation  matter in Western Pennsylvania. We can also draft or improve your existing contracts to avoid litigation in the future.  Our Pittsburgh and Beaver County attorneys can help you throughout Western Pennsylvania, including: Allegheny  County (Pittsburgh), Beaver County, Butler County, Washington County, Lawrence, and Greene Counties  (Waynesburg).  Our Pittsburgh, PA, and Beaver County, PA attorneys can come to you in Fayette (Uniontown),  Westmoreland County (Greensburg), Cambria County, Greene County, Monongahela, Monroeville, South Hills, Ross,  Monaca, South Side (Pittsburgh), Shadyside (Pittsburgh), Monroeville, North Side (Pittsburgh) Avalon, and Bellevue.  Each Pittsburgh, PA attorney with our firm litigates breach of contract, drafting and interpretation.
Contract Law. Our Pittsburgh, PA attorneys handle breach of contract, oral contracts, or sometimes called "verbal agreements," or verbal  contracts, enforcement of contracts in writing, modification of written agreements, declaratory relief actions (sometimes called "dec actions"), and endorsed documents. Let our  Pittsburgh PA lawyers review and enforce signed papers, terms, breach of agreement, missing terms. Have a Western  Pa lawyer review modification, modify, and minor breaches. Our Pennsylvania attorneys evaluate material breach,  damages, and recovery. Let a Pittsburgh PA attorney explain unjust enrichment, promissory estoppel, statute of  frauds, failure of consideration, law suit, insurance coverage and claims, choice of forum clauses, arbitration, jury  trial, damages, claim for relief, remedies, specific performance, small claims, breach of contract, breach of agreement,  and anticipatory repudiation.  We handle the drafting and litigation of franchisor-franchisee agreements and contracts.  We handle cases for a franchisor, and for the franchisee.  We look at general concepts, like the parol evidence rule, UCC and the sale of goods, the enforcement or defense of franchise agreements.   
Litigation. Our litigation attorneys negotiate, defend, enter defenses, file suit, and defend suit. We handle abuse of  process, Dragonetti, consent judgment, confession of judgment, Dragonetti claims, civil complaints, answer,  preliminary objections, discovery, depositions, fraud, fraudulent transfers, challenge to venue. Our lawyers for  litigation handle defense of frivolous claims, statute of limitations defenses. We also do collection, execution, stays,  garnishment, sheriff service, freeze bank accounts and assets, sheriff sales, and more.
Non-Compete Agreements. We review non-competition clauses that prevent an employee from working,  injunctions for a covenant not to compete, unfair competition issues, trade secrets, customer lists,  non-competition agreement, covenant not to compete, and non-compete clause. We evaluate non compete contracts and defenses, such  as the lack of consideration, excessive scope of the agreement, time length, or geographic impact. Call us to evaluate  any restrictive covenant or employment issue, such as wrongful termination. Construction Law. We our construction litigation attorneys in PA will handle residential and commercial construction, perfection of liens, breach of contract claims, claim against contractor, recover payment, suit on general contractor, claims against bank or supplier, professional negligence, suit against contractor, builder, suit against property owner, jury trial, or bench trial on contract damages. We handle work involving restoration, new builds,  renovation, plumbing, electrical, masonry, brick, landscaping, block, injuries, falls, collapse, and more. Have a  construction lawyer protect you from getting a lien against your business, residence, or second home, and avoid a  situation where a home improvement contractor fails to pay his subs or subcontractors or suppliers. Inquire with our  construction litigation lawyers about change orders, extras, bonding, insurance, permit issues, zoning, and AIA, engineering testimony and issue, architectural matters and more. Learn about the contractor subcontractor payment,  payment of interest, penalties, and attorney fees.
Arbitration and Mediation (ADR). Ask how our contract law PA attorneys can help you with your arbitration  dispute, or ARD. Our Beaver County lawyers are available to help. Call a an attorney in PA for advice about binding,  and non-binding arbitration in state court or federal court, or  compulsory arbitration. A qualified lawyer in  Pittsburgh can save you money in  AAA arbitration. Go ahead and challenge our lawyers in Pittsburgh.
Oil and Gas Leases. We address leasing property for oil and gas exploitation for landowners, brokers, and gas  companies. We review oil and gas leases, the writing, before drilling is commenced.  Our lawyers handle landowner  rights,  Marcellus Shale drilling disputes in Pennsylvania, pressure to sign, state law, disturbance issues, drilling  operation, and damage to property.
Our Agreement and Contract Law Litigators will finalize your contract. We will draft and/or review your  existing agreement to make it effectuate your intent when entering into the contract.  We represent those who live  outside of Pennsylvania and you need suit filed (or a defense) in Western PA. See our links.
Formation issues.  We handle contract formation issues, such as the analysis of the offer, acceptance, and validating device or consideration, involving bargain for exchange, and conditions, such as conditions precedent, conditions concurrent.  We look at the dealings between the parties and course of performance. 
Types of Contracts.  We handle express contracts, implied contracts, agreements in good faith, contracts under seal, assignments of rights, unilateral contracts, bilateral contracts, consumer transactions, void or voidable contracts, choice of forum agreements, AAA arbitration, love and affection consideration, promissory estoppel, joint and several agreements, personal guarantees (or guaranties) by a guarantor, land sale by grantor or grantee, third party beneficiary agreements, substantial performance, partial performance, and divisible contracts.
Defenses.  We also handle defenses: fraud, undue influence, unconscionable or unconscionability, adhesion contracts, mutual mistake, unilateral mistake, mental incapacity, intoxication, gifts, misrepresentation, duress, undue influence, accord and satisfaction, waiver, abandonment, impossibility, impracticability, and ambiguity (for ambiguous contracts).  
Damages.  We seek damages, and make claims for monetary damages, attorney fees, costs, liquidated damages, rescission, unjust enrichment, reformation, restitution, and specific performance.  Click here for our site map.