Experience and Skill to Save Time 
Our

experienced

 attorneys strive to save your time and money as we bring a claim (or defend one) regarding any kind of contract. We offer fair pricing.  When you think "Pittsburgh Lawyer Contract," you should consider us.  We often handle cases on a contingency basis when bringing a claim for breach of contract. For defense cases, we charge an hourly fee but give you a litigation budget in advance, and without charging a massive retainer upfront. We see litigation as a series of stages where the case could settle at any stage, so you never pay for more services than you need.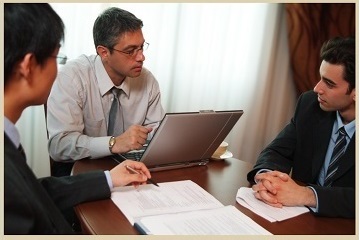 The Role Of Good Representation
First, thought and skill should go toward forming a solid litigation plan that is cost-effective and designed to maximize  your results from litigation. Your lawyer should fully understand all possible contract claims and defenses to be most effective. To get results in every case, we closely dissect both parts of a contract dispute:  
Free Consultation
Our experienced legal advocates handle all contract-related matters, including non-competes, collection claims (and defenses), business disputes, insurance coverage disputes, assignment of claims, loans, defense of claims by credit card companies, gas lease, land sale, home or commercial improvement, (liens, etc.), and more. (Click - here - to learn more details about the meaning of "consultation".)
We handle simple drafting and  interpretation of existing agreements (Contracts 101 -"What is a contract?") to litigation matters deemed "complex" by the courts and referred to special judges for prolonged, multi-state litigation.
Let's Get Started
412.780.0008
___________________________________________
Our Contract Law Attorneys are here to help. You should think of our law firm if you think "Pittsburgh lawyer  contract," for breach of contract matters in PA. We will help you negotiate and draft an agreement, such you are  familiar with all possible issues, such as whether to insert an arbitration or mediation clause, to allow for alternate  dispute resolution, or ADR. draft an agreement that minimizes the risk of litigation. We evaluate verbal agreements  and oral contracts. In any event, why rely on a such a form when you can have a trial litigation attorney review and/or  draft a contract that will be binding in Pennsylvania? We can help you throughout Western Pennsylvania, including:  Allegheny County (Pittsburgh), Beaver County, Butler County, Washington County, Lawrence, and Greene Counties  (Waynesburg). Set up an appointment for consultation with an attorney. A Pittsburgh lawyer can come to you in Fayette  (Uniontown), Johnstown, Westmoreland County (Greensburg), Lawrence County, Cambria County, Greene County,  Weirton, Wheeling, Morgantown, Monongahela, Monroeville, South Hills, Ross, Monaca, South Side (Pittsburgh),  Shadyside (Pittsburgh), Monroeville, North Side (Pittsburgh) Avalon, and Bellevue.  Call our lawyers in Pittsburgh today, or click here to get answers to frequently asked questions!
Our lawyers handle 1. Construction law disputes throughout Western Pennsylvania for and against property owners, general contractors (GCs), subcontractors, and suppliers, including mechanic's lien disputes; 2. Non Compete -  we handle non-compete agreement disputes on a regular basis.  We also see trade secret claims in this context, 3. Business Law and Debt - our law firm has had the good fortune to be entrusted by many mid-sized businesses with all of their litigation disputes. This has allowed us to get experience in state and federal court with a wide range of issues including debt collection (and defense), shareholder disputes, insurance coverage, property damage, and more claims; 4. All Types of Contracts and Civil Litigation Disputes - If you need to enforce - or defend against the  enforcement of - your agreement, we can help you. We  will fully protect your interests in court for a price that is  reasonable. Our Pittsburgh litigation attorneys have  handled cases in arbitration, mediation, and jury trials.  Our tested and experienced attorneys will be glad to  protect your rights before a jury.
We also help those located outside of the Commonwealth of Pennsylvania who find themselves needing to address  litigation in Pennsylvania. Each lawyer with us handles breach of contract drafting, litigation, will drafting, power of  attorney, and living wills. Don't let a contractor take advantage of you during contract negotiations for a renovation or  new home construction. Have an attorney review the written agreement and/or help you enforce an existing  agreement in court. You will save money over the long run by having quality advice on your home improvement,  home purchase, real estate sales agreement, service agreement, or other contract. We can estimate for you the likely  damages from breach of contract. We will handle your business law case, non-compete agreement (for employers  and/or employees), your breach of contract claim, jury trial, or bench trial on contract damages.  We handle:
Non Compete, Sale of Goods, Home Improvement, Breach of Warranty, Mechanics Liens, Premarital  Agreement, Construction Law, Arbitration and Mediation