Enforceable?

 
Although frowned upon by the courts, covenants not  to compete are enforceable in many instances if  reasonably limited in scope and supported by consideration. Our

experienced

business law 

attorneys

defend

and enforce non-compete agreements in Western PA.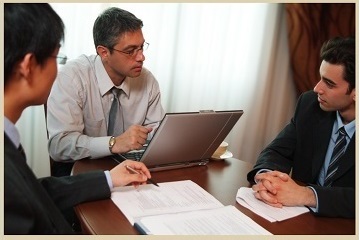 Claims and Defenses.
It is called an "

injunction

" when a court restrains an  employee from working in a certain field or industry or communicating trade secrets. A court may award the moving party money

damages

and attorney fees, depending on the defenses available.
Free Consultation
Our Pittsburgh, Pa

lawyers

 answer a question or two for free about: the enforcement (

employer

) or defense  (

employee

) of a covenant not to compete,

trade secret claim

, or any other business and

employment

law matter. For a law flat fee, we perform a detailed review of all of the details in your case and we apply decades of experience to give you guidance about how best to resolve the matter.  
412.780.0008
The Basics | Employer's Rights | Employee | Elements to Prove | Recoveries | Defenses | Trade Secrets | Procedures and Injunctions | Employment Issues | Settlement Options
_________________
Non-Compete Agreements. Our attorneys in Pittsburgh review non-competition clauses that prevent an employee  from working, preliminary injunctions, permanent injunctions relating to a covenant not to compete. We address  unfair competition issues, trade secrets, customer lists,  non-competition agreement, covenant not to compete, and  defenses to non-compete clauses, such as failure of consideration, lack of a protectable interest, legitimate business  activity, balancing in favor of the employee versus the employer, undue restrictions, unreasonable geographic scope,  or length of time. Our attorneys in Pittsburgh evaluate non compete contracts and defenses, such as the lack of  consideration, excessive scope of the agreement, time length, or geographic impact. We also evaluate frivolous  claims and whether a part failed to hire qualified private investigator before bringing suit for wrongful competition.  We also evaluate the possibility of a buyout of the non-compete or other settlement possibilities. Call an attorney in  PA to evaluate any restrictive covenant or employment issue, such as wrongful termination.
Contract Law. Our Pittsburgh, PA attorneys handle breach of contract, enforcement of contracts in writing,  modification of written agreements, and endorsed documents. Let our Pittsburgh PA lawyers review and enforce  signed papers, terms, breach of agreement, missing terms. Have a Western Pa lawyer review modification, modify,  and minor breaches. Our Pennsylvania attorneys evaluate material breach, damages recoverable, and all possible  recoveries. Let an attorney in Pittsburgh explain choice of forum clauses, arbitration, jury trial, damages, claim for  relief, remedies, specific performance, small claims, breach of contract, breach of agreement, and anticipatory  repudiation.
Litigation. Our litigation attorneys negotiate, defend, enter defenses, file suit, and defend suit. Our Pittsburgh  lawyers handle abuse of process, dragonetti, consent judgment, confession of judgment, Dragonetti claims, civil  complaints, answer, preliminary objections, discovery, depositions, fraud, fraudulent transfers, challenge to venue.  Our attorneys in PA handle statute of limitations issues.
Our Pittsburgh, PA Contract and Other Document Drafting Lawyers will handle your contract law litigation matter in Western Pennsylvania. We can also draft or improve your existing contracts to avoid litigation in  the future. Our Pittsburgh and Beaver County attorneys can help you throughout Western Pennsylvania, including:  Allegheny County (Pittsburgh), Beaver County, Butler County, Washington County, Lawrence, and Greene Counties  (Waynesburg).  Our Pittsburgh, PA, and Beaver County, PA attorneys can come to you in Fayette (Uniontown),  Westmoreland County (Greensburg), Cambria County, Greene County, Monongahela, Monroeville, South Hills, Ross,  Monaca, South Side (Pittsburgh), Shadyside (Pittsburgh), Monroeville, North Side (Pittsburgh) Avalon, and Bellevue.   Each Pittsburgh, PA attorney with our firm litigates breach of contract, drafting and interpretation.
Our Agreement and Contract Law Litigators will finalize your contract. We will draft and/or review your  existing agreement to make it effectuate your intent when entering into the contract.  We represent those who live  outside of Pennsylvania and you need suit filed (or a defense) in Western PA.